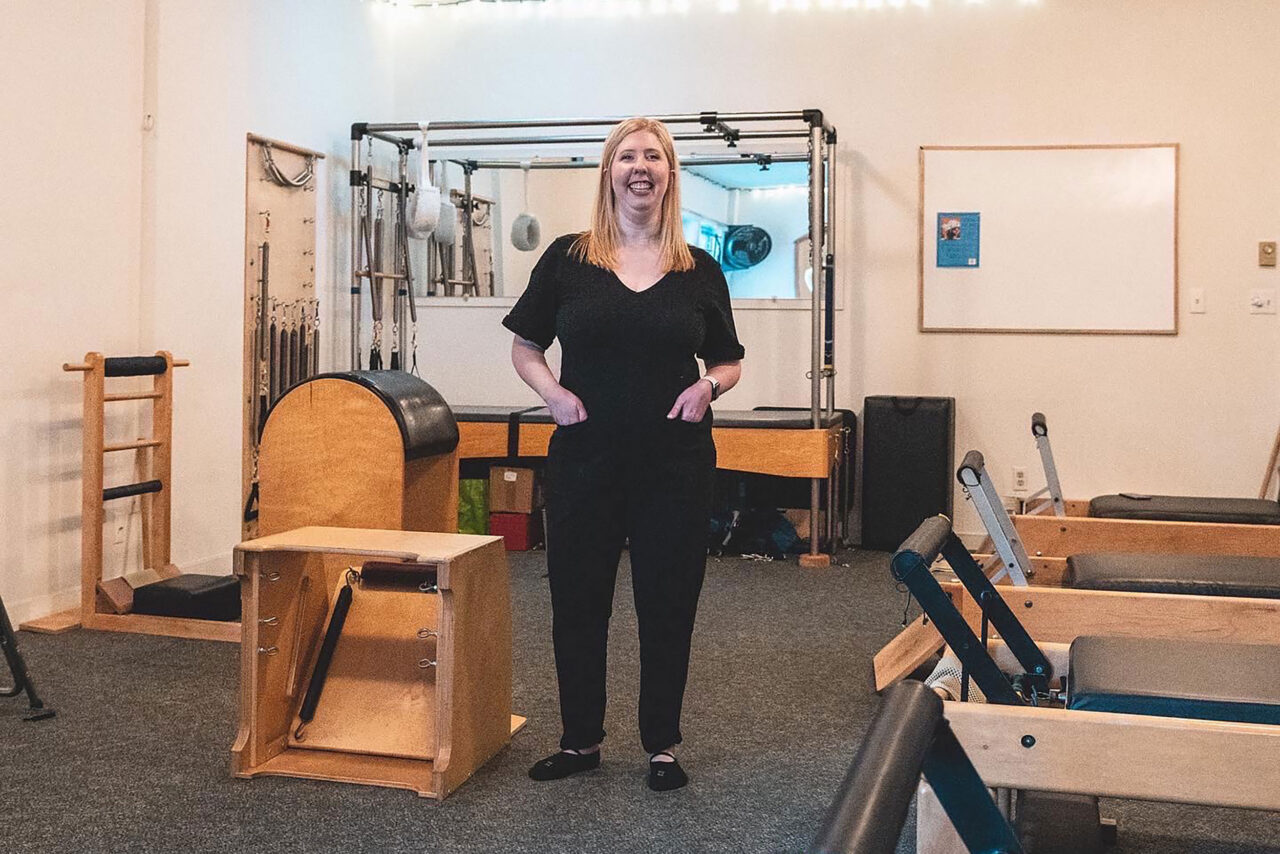 ---
We've all said some variation of, 'I don't have the time to exercise.' I used to work for a book publisher and was at the desk ten to twelve hours a day. My colleagues made the time to fit in a run or a walk, but I used the excuse, 'I don't have the time to work out.' I walked ten minutes to and from work every day, and I lived at the top floor of a building that had no elevator, so I lost weight because I took the stairs, but that didn't mean I was healthy. My sleep was always awful, I was chronically stressed and exhausted, and I was deeply depressed. If I had made more time for exercise, I think it would have helped my mental health and overall wellbeing a lot more.
I left my publishing career in 2019 and became a Pilates instructor, and I made the time to exercise every day. I had to walk the talk as an instructor, and I wanted to be as strong and as healthy as possible, to be able to do my job well. When I told people that I was a Pilates teacher, I heard the same response over and over again. 'I would do that but I don't have the time.' I used to say that constantly when I wasn't working in the wellness industry. I wish I had made the time to work out, even if only a couple of days a week. Other people who were just as busy as I was – if not more – made time for exercise.
If you don't make the time to look after yourself, eventually, you'll have to make the time to manage pain, stiffness, soreness, and injury. If you build in wellness habits now, you can prevent discomfort and pain down the line. Do you ever see Marie Forleo or Michelle Obama skip a workout? When you see it as something that nourishes you mentally, physically, and spiritually, it's not drudgery anymore.
How do you make time for exercise and self-care when you're really busy?
Find exercise you enjoy
I used to drag my butt to the gym because I hated the way I looked. I couldn't stand my stomach and thighs. The gym made those feelings worse because all I saw there were women who were more attractive than I was, in nicer clothes, with far better bodies. I pushed myself through hours on the elliptical machine and in the pool, hated every minute of it, and left my sessions exhausted and depleted. I never felt better. When I started doing Pilates and yoga, I loved them and looked forward to them, and felt better after. Find exercise that you look forward to and that makes you happy. It doesn't have to be a tough slog in order to be effective.
Start slowly and build gradually
A hairdresser asked me if she should start with three Pilates classes a week. I said stick to one to begin with and then work up from there. It can be tempting to go deep at first dive and jump into an intensive routine, but it's better to increase gradually than go full tilt and then stop because you feel burnt out. Come in once a week and, once you've got the hang of things and are ready to progress, build up to two or three classes a week.
Get a workout buddy
Why do we have personal trainers, yoga teachers, Pilates teachers, running clubs, and workout buddies? To stay accountable. That's why I have an Apple Watch and why I still take private Pilates classes. Otherwise, it would be too easy for me to say, 'Oh, I'll work out tomorrow.' Your Pilates teacher is human, just like everyone else. Even though we're in the wellness business, we also have days where we don't feel like working out. The social aspect of wellness can be just as beneficial for our mental health as the exercise itself, especially since we've just entered the third year of a global pandemic. If nothing else, going for a walk with a friend or joining a Pilates class together can be a great social activity. I have several clients who do classes with friends and family members, and it's their fun time that they spend together.
Location location location
Find a Pilates studio or gym that's either close to home or close to work. You can go in the morning before work, at lunchtime for an express class, or after work to burn off the stress of the day. When you build your workout routine around places you spend a lot of time in, you stop thinking about it and you just do it, the way you brush your teeth every day. Find a place that's easy to get to, or buy equipment you can use at home, and make it as much a part of your day as housework or cooking.
---